Great investments with tremendous potential in a modernizing world.
Metalline Mining to Begin Trading on The American Stock Exchange November 6
After months of no action and impatient investors bailing out on low volume, Metalline Mining announced this morning that their application for American Stock Exchange listing has been approved, and
they will begin trading on the Amex on Monday
.
With zinc breaking out to a new all-time high, LME zinc inventories quickly getting devoured, and management on an international road show with institutional investors, the Amex listing is coming at a perfect time.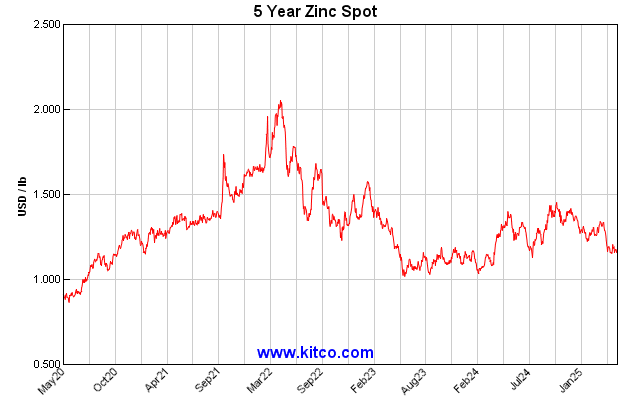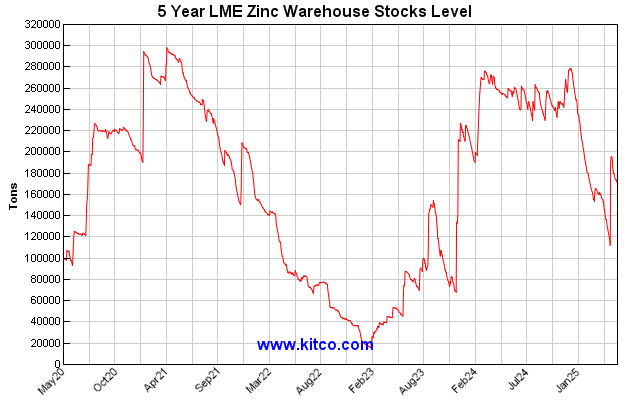 Many investors, particularly institutions, won't buy a stock that's on the OTC bulletin board, which has a reputation for being a "penny stock" haven with lots of scams. The Amex listing will give Metalline credibility and will put it on the list of many institutions around the world.
As arguably the best metal for investors today (
http://greatinvestments.blogspot.com/2006/10/forget-all-other-metals-think-zinc.html
), zinc is attracting a lot of investment interest. The above chart of LME Zinc Warehouse stocks shows that the zinc crisis is headed for an explosive event within a few months as the zinc inventory is quickly headed for 0. Of course, the inventory can't go below 0, so something is going to have to change to keep the inventory positive. Despite the near tripling of the price of zinc over the past year to near $2/lb., the demand for zinc has not slowed down the rapid pace of inventory depletion. The price of zinc would need to nearly triple again to make a new all-time high in real, inflation-adjusted terms. Basic supply and demand economics indicate zinc is headed for an explosive move higher. In the coming zinc crisis, the price of zinc will need to rise high enough to curtail demand significantly.
This article from earlier this year gives a great overview of the zinc market, with great charts as well as text:
http://greatinvestmentarticles.blogspot.com/2006/07/case-for-zinc.html
Because GTI produced a positive feasibility study and got the similar Skorpion mine into production when zinc was at 35 cents, we believe that GTI will produce a very positive feasibility study for Metalline Mining now that zinc is over 5 times higher. With 5.8 billion proven pounds of zinc and a fully diluted market cap around $150 million, we continue to believe Metalline Mining is extremely undervalued for one of the world's largest zinc projects at such a late stage of development, at about 1% of the value of their proven zinc.
For a quick valuation comparison, let's compare Metalline to one of the few zinc producers, HudBay Minerals (HBM on the Toronto Stock Exchange).
HudBay:
Zinc reserves = 21,400,000 tonnes of 5.3% zinc (1,134,200,000 tonnes contained zinc),
less about 85 million tons reserves mined in this year's production so far,
leaving approx. 1,050,000 tonnes contained zinc reserves remaining
Resources = 4,900,000 tonnes of 7.4% zinc (362,600 tonnes)
Total = 1,412,600 tonnes contained zinc, or 3.11 billion lbs.
(from
http://www.hudbayminerals.com/oreReserves.php
) on 1/1/06
124,796,513 shares outstanding (unclear what fully diluted is) x 19.07 CAD = $2,379,869,503 CAD x .89 = $2,118,083,858 USD basic market cap
(from
http://www.hudbayminerals.com/investorRelations.php
)
$2,118,083,858 / 3.11 billion lbs. =
$.681 per proven pound of zinc
(HudBay also mines some other metals as byproducts, which they apply as credits to decrease their cost of zinc mined)
Metalline:
Iron Oxide Manto = 28,042,538 tonnes of 7.04% zinc (1,974,185 tonnes contained zinc)
(from page 29:
http://www.metalin.com/Metalline,%20Sierra%20Mojada,%20Zinc%20060625.pdf
)
Smithsonite Manto = 5,431,050 tonnes of 12.08% zinc (656,070.84 tonnes)
(bottom of page 1:
http://www.metalin.com/03-18-05.pdf
)
Total = 2,630,255.84 tonnes contained zinc, or 5.8 billion lbs.
49.7 million shares fully diluted x $3.10 = $154,070,000 fully diluted market cap
(there are only 34,126,661 basic shares outstanding per
the last 10Q filing
, but we'll use fully diluted to be conservative)
$154,070,000 / 5.8 billion lbs. =
$.0266 per proven pound of zinc
As a zinc producer, HudBay deserves a higher valuation than Metalline's preproduction zinc project, but assuming Metalline can get to production, this comparison shows that the upside is enormous, even after the recent recovery of the stock from the artificially low prices caused by the one big seller we mentioned in August. Even though zinc is much higher now, the Amex listing has been approved, and its project has advanced significantly, Metalline's stock remains well below its May high of $5.67. If they don't get bought out, they'll likely need to dilute the existing shares significantly during financing for the move to production, but even after discounting heavily for that dilution and the multi-year wait for production cash flows, Metalline has at least 10-fold upside, especially considering the zinc crisis and the high-grade silver they're drilling.
Some investors have told us they're worried that the cost of piping water in a long distance (an
early October press release
indicated Metalline has located water 20 km away from the project site) may make the project unfeasible. However, Skorpion was proven feasible at 35 cent zinc even though they have to pipe water in from 45 km away (
http://www.gti.co.za/Skorpion.htm
). Also, Metalline could locate the refinery elsewhere, near water, if the nearby water isn't sufficient. Their earlier testing showed that they can easily produce a concentrate from the ore which they can ship anywhere in the world for refining, meaning they can locate the refinery wherever it makes the most sense from a tax incentive, power, labor, etc. standpoint. This flexibility gives them negotiating power with Mexico and other countries to get the best all-around deal for the refinery.
As we explained in August,
we believe several companies will try to buy Metalline's zinc project
after completion of the feasibility study. With the largest proven preproduction zinc project in the world that major mining companies will be able to buy, in a politically safe part of the world, Metalline Mining will be sitting in the driver's seat when the cash-rich suitors with dwindling reserves come calling.
After suffering through the junior mining sector carnage and being held hostage by one big seller on low volume the past few months, we're very pleased that Metalline Mining is finally graduating to the big leagues from the pee wee arena. Metalline Mining's typical shareholder profile will be changing drastically from bulletin board traders to high profile international institutions.
To us, the Amex listing under the new MMG symbol is Mmm, Mmm, Good.
Disclaimer: Great Investments may have a position in all or some of the stocks discussed in this blog, but is not paid by any company to promote their stock. Great Investments contains opinions, none of which constitute a recommendation that any particular security, transaction, or investment strategy is suitable for any specific person. Great Investments does not provide personalized investment advice.
Enter your email address in the box below to get emailed any new blog entries (within an hour or so of an update). Your email address won't be listed or sold.